Get creative with your baby lock machine by booking a workshop or personalised one-to one-tuition.
Workshops at our studio will start again when it is safe to do so but we are still here to help online.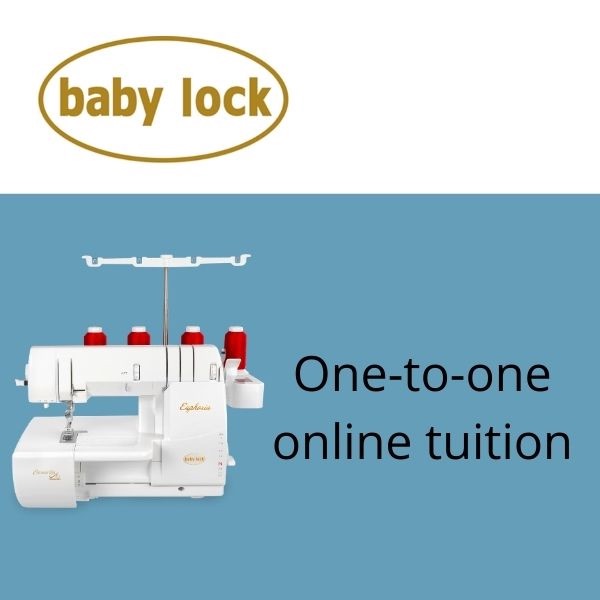 One to one tuition with our baby lock expert tutor Jane
Get more confident with your baby lock machine with help from Jane.
Whether you to want to go through the basics, discover decorative stitches and materials or use specialist accessories, Jane is on-hand to help you get the most out of your fabulouse baby lock machine.
Tuition can be booked in 30 minute blocks.
Cost: £18 per 30 minute session
Don't forget - if you purchase your new baby lock machine with the babylockshop you can book a free introductory session at the studio or online.
Your baby lock overlocker isn't just for neatening seams!
Take your machine beyond neatening seams with a range of techniques.
How to start and finish neatly in the round
Corners
2 thread flat lock
Let's add decorative threads and ....... so much more as we overlock along together!
This session is for overlocker and combination machines.
Cost £35.
Join baby lock educator Katy for our demonstration evening
At the studio by appointment or via Zoom.
From the Enspire through to the Acclaim and it's air-threading needles.
Cover stitch or Euphoria? Decide which dedicated cover stitch is for you.
Desire3, Ovation or Gloria. Discover the exciting world of combination sewing.
Feed attachments - what does what and how and which will take your sewing to the next level.
Free event
Discover baby lock's range of no-nonsense accessories for professional stitching with ease!
You might have extra feet but don't know what to do with them or you might be thinking of buying some but don't know what to choose.
We will start with overlocking feet for overlockers and combination machines. So whether it's beading, piping or gathering there's a foot to do the job.
For cover stitch and combination machine owners try out the impressive binders. You might like to play with the hemmers or the belt loop turners.
So many possiblities. So many top tips and technques!
Cost £80.
10% discount for accessory purchases.
Jane White Tuition Ltd
Company number 106732861