Get creative with your baby lock machine by booking a workshop or personalised one-to one-tuition.
Workshops at our studio will start again when it is safe to do so but we are still here to help online.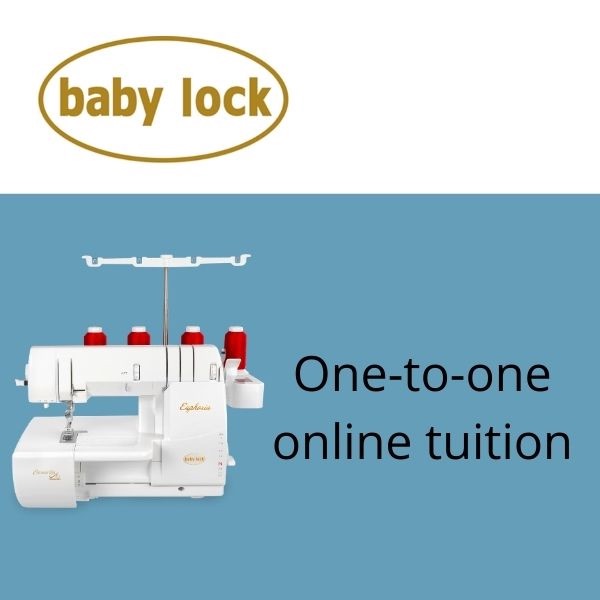 One to one tuition with our baby lock expert tutor Jane
Get more confident with your baby lock machine with help from Jane.
Whether you to want to go through the basics, discover decorative stitches and materials or use specialist accessories, Jane is on-hand to help you get the most out of your fabulouse baby lock machine.
Tuition can be booked in 30 minute blocks.
Cost: £18 per 30 minute session
Don't forget, if you purchase your new baby lock machine with the babylockshop new owner online one to one tuition is free!
The session is 10am-3pm via Zoom and will cover:
identify the type of jersey
discover the stretch with the jersey ruler
matching jersey to sewing pattern
matching the sewing pattern to the jersey
stabilising the stretch
using the differential feed for perfect overlocking
make a T-shirt sample with neck and armhole bands, set in sleeves and hem options
applying elastic
v-neck bands
and lots of other top tips and techniques along the way
Workshop fee: £59 includes a course pack with materials which will be sent out to you.
Join Jane and baby lock Education Katy for our demonstration day online or at the studio!
13 November 10am-3pm
We will show you baby lock's fabulous range of overlockers, cover stitch and combination machines.
Be amazed by the air threading loopers (and needles on the Acclaim and Gloria) and baby lock's automatic tension system.
Discover the world of feet and accessories to take your sewing to the next level. From beading to binding and beyond!
Online with Zoom or by appointment at our studio.
Get in touch for more information and to book.
Jane White Tuition Ltd
Company number 106732861